Canadian Stores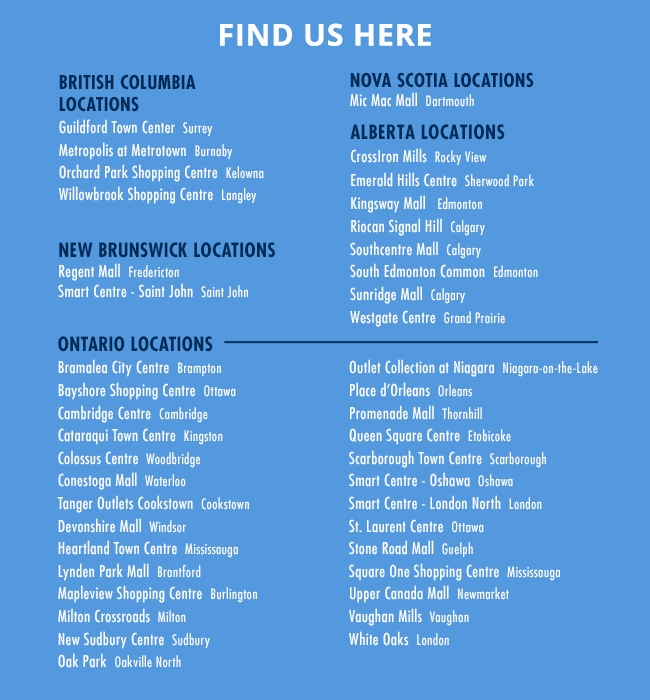 JUSTICE PAYMENT & RETURN POLICY
JUSTICE ACCEPTS VISA, MASTERCARD, AMERICAN EXPRESS, DISCOVER, DINERS CLUB AND JCB.
RETURN AND EXCHANGE POLICY
We will gladly accept returns of unwashed, unworn, or defective merchandise purchased in Canada at any Justice store in Canada within 90 days of the original purchase date. When you have an original sales receipt, refunds will be provided in the manner in which the original purchase was made. Without an original sales receipt, we will extend a store credit for the current selling price of the returned merchandise. We reserve the right to ask for identification for returns made without a receipt. We reserve the right to verify original purchase on returns made without a receipt. Gift receipts and exchange receipts may only be used to receive a store credit or a merchandise exchange for the price indicated on the receipt. Discounts given at the time of purchase will be deducted from returned merchandise. In the event of a return or exchange, discount will be forfeited and may not be reused.
PRICE ADJUSTMENTS
A one-time price adjustment may be conducted when accompanied by the original sales receipt within 14 days from the date of purchase. Promotional offers are not valid on previously purchased merchandise. Price adjustments may not be made with respect to promotional offers such as coupons unless stated expressly on the promotional offer.
EXCEPT WHERE REQUIRED BY LAW: ALL GIFT CARDS, CERTIFICATES AND STORE CREDITS ARE REDEEMABLE FOR MERCHANDISE ONLY, CANNOT BE USED FOR PAYMENT ON A CREDIT ACCOUNT, AND CANNOT BE EXCHANGED FOR CASH. THEY CARRY NO EXPIRATION DATE. LOST OR STOLEN GIFT CARDS AND STORE CREDITS WILL NOT BE REPLACED, UNLESS PROOF AS REQUIRED BY JUSTICE IS PRESENTED. REPLACEMENT VALUE WILL BE THE VALUE AT THE TIME THE LOSS OR THEFT IS REPORTED.